| | | | | |
| --- | --- | --- | --- | --- |
| [ | mood | | | excited | ] |
NEW COMMUNITY!!!HURRAY!!!!
i suppose i will introduce myself to this new community.
My name is Kayla. I live in Daytona Beach FL. I have two young goldfish:
Bread: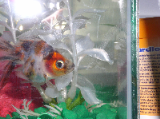 - who I have had for 6-7 months, is a calico Ryukin. Bread is a small corky fish, he hides in small corners at times. He likes to swim against the bubbles that rise from my bubble blowing coral deco. When all the lights are out and I am trying to get some sleep for school in the morning he likes to dig through the gravel and spit it out at the glass. He rarely does that during the day. I guess he just likes to keep me up at night : /
Isabella:
- who I have had for over a year now, is a gold fantail. She is very friendly and always greets me when i come to watch the tank. She usually swims in the front of the tank, she likes to know what is going on. I find that she watches me when I am laying on my bed watching t.v. or even as I am sitting here typing on my computer. She lets me hand feed her freeze dried shrimp..sometimes. Her and my algea eater (Edgar) don't really get along. they tend to chase eachother around, or sometimes he will come up behind her and try to suck on her side.
My current tank status is a 10 gallon tank. I KNOW! I KNOW! the 10 gallon rule. BUT Isabella and Bread are small enough to share this humble home for the time being. In a few months I will be purchasing i'm pretty sure a 50 gallon tank ( which I am so excited about!! ) - my mom will be helping with the payments ;D After getting my tank set up and ready for action i've decided I want to add some new members to my goldfish crew. so far I have decided on a Panda butterfly tail telescope and a calico lionhead for sure. Panda's are so hard to find and I am afraid of purchasing one off the internet so I was thinking of asking my local petstore ( where i buy all my fishy needs ) if they would order a batch. I'm sure the local fish owners would also appreciate that since they are so adorable. well I hope i have inspired you to join this community. byee ^_^